By Cardinal John Dew
Recently I watched a short video clip.
It was only about a minute and a half, it was one of the many songs, tunes and familiar pieces of music that have been adapted to say something about the Coronavirus and the reality of Covid-19 in our world. You have probably seen many such things yourself, some very funny, some very clever, some making fun of world leaders and the things they have said about Covid-19.
This particular one was set to the tune of the famous "Nessun Dorma" from her final act of Giacomo Puccini's opera Turandot, "Nessun Dorma" being one of the best-known tenor arias in opera. "Nessun Dorma" meaning "Let no one sleep" is an aria from the final act of the opera. As in the opera, many of us have probably lost a lot of sleep with anxieties and concerns about the Coronavirus.
This particular video begins with the famous tune being used to the words of "No Corona, No Corona" and ends with, using the same tune, "2020 has been a tough year, we are holding out hopes for 2021," and then the famous "Vinceremo" (meaning "we will win") at the end of the opera with "Get lost Corona!"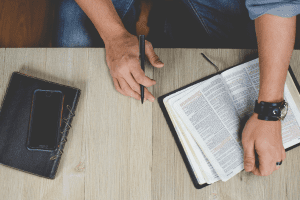 2020 has been a tough year.
There have been endless challenges to face and there have been, and still are, many uncertainties everyone has had to face and deal with. Nobody in our country has been exempt from the worry and the anxiety of keeping safe, preventing the spread of the virus and also with wondering how to cope because of job losses, income depletion for many, and businesses going bust.
How do we cope with something like this? Where do we get our strength from and what helps us to face another day of deep concern? I think the better question to ask is "Who helps us to cope and to face another day?" For me it is God, God made present in Jesus Christ. Then without a doubt, it is the words of Jesus that help me, and hopefully, help you to manage in such times as the tough year of 2020.
I often say that the Gospel is full of invitations.
We read words such as "Come to me, all who labour and are overburdened," "this is my beloved Son, listen to him,"  "Come, follow me," there are endless invitations in the Gospel, it seems to be the nature of God to be constantly inviting us. God is continuing to invite us in the time of threat of Covid-19. My own favourite invitation which I sit with a great deal is the words of Jesus from the Gospel of John where he says, "Remain in my love" (John 15:10). Those words are for me a definition of prayer, I hear Jesus saying, inviting me "Remain in my love." It is not always easy to do, to sit in silence, to be still, to be with him; but no matter how much I might resist the invitation at times, no matter how many distractions I allow into my life, no matter the concerns and anxieties about many things there are to cope with, he still invites.
There are times in our lives when we are not able to do anything else but to sit still and allow God to love us. 2020 is one such time. I used to think that this particular invitation of Jesus for me was just for times of prayer, for a particular time of the day when I tried to be aware of His presence. I know now that this invitation of Jesus is meant to be for all times of my life, when I am sitting at my desk, when I have a meeting or an appointment which is difficult and challenging, when I am out for a walk. At all times of the day I am invited to remain in His love.
This invitation is only four words.
These four words can be and will be of great assistance for us all during these difficult days as we continue to face the uncertainties of Covid-19. When alone, frightened, anxious; when you feel that you do not know how to cope, or how to face the continuing challenges this year puts before us, pause and remember this four-word invitation "Remain in my love."
If you think you need more than four words then reflect on these words of St Paul which speak in a lot more words of the reality of God's love.
"Nothing therefore can come between us and he love of Christ, even if we are troubled or worried, or being persecuted, or lacking food or clothes, or being threatened or even attacked….  For I am certain of this: neither death nor life, no angel, no prince, nothing that exists, nothing still to come, not any power, or height or depth, nor any created thing, can ever come between us and he love of God made visible in Christ Jesus our Lord." (Romans 8: 35-39)
Cardinal John Dew is the Archbishop of Wellington and Vice President of New Zealand Catholic Bishops Conference. Conference Liaison for Holy Cross Seminary, the national seminary for formation of diocesan priests. Bishop for the Catholic Bishops Committee for Ecumenism. Pope Francis has also appointed Cardinal John to the Pontifical Council for Promoting Christian Unity, the Congregation for Divine Worship and the Congregation for the Evangelisation of Peoples.