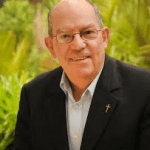 Each weekday, Father James Lyons (Wellington) will be helping us reflect on God's Word while we are in lockdown. What is God saying to us as we globally unite to defeat Covid-19?
WE'RE IN THIS TOGETHER
SETTING: a statue or image of Mary, mother of Jesus.
Prayer:
Togetherness has a new meaning these days.
We are together in this lockdown time,
in this time shared by people everywhere,
but we are separated, apart, and
cannot even stand close to one another.
This separateness fights a cruel and lethal virus.
O God, may we not lose sight
of what togetherness really means.
Help us cling to unity once restored
for we need each other
to give life health and meaning.
"We're in this together" has been a clarion call through the nation during the Covid-19 alert, urging the population to act as one – to stand together against a common enemy. But this "togetherness" has meant separation. Social distancing, living a "bubble life", has emphasised isolation and for many has brought loneliness and sadness. Not being able to be at the bedside of a relative dying of the disease, a most difficult consequence.
This prayer time is an opportunity to look more closely at this strange time of isolation and think about what it teaches about the connection between personal space and being together. The Scripture passage preludes the gift of Pentecost – the birth of the Church – and is offered as a base for your mediation.
The arrest and crucifixion of Jesus struck terror in the hearts of the disciples and they fled. Separated from the one they had followed and admired, they "self-isolated", not daring to believe there could be a reunion. News of the resurrection of Jesus was dismissed as nonsense and they were admonished for being so "slow to believe" [Luke 24:25]. They came to realise that their separation helped them to appreciate each other more and, in Jesus, they found their centre, their purpose and their reason for being.
The Acts of the Apostles opens the identification of the first "community", leading to the Pentecost experience – the emergence into the light of Christ Jesus, risen and glorious, the beginning of a new "Way", the end of "lockdown"!
SCRIPTURE – ACTS OF THE APOSTLES 1:12-14 [NRSV]
When they entered the city, they went to the room upstairs where they were staying, Peter, and John, and James, and Andrew, Philip and Thomas, Bartholomew and Matthew, James son of Alphaeus, and Simon the Zealot, and Judas son of James. All these were constantly devoting themselves to prayer, together with certain women, including Mary the mother of Jesus, as well as his brothers.
Reflect on
this "community of believers",

the centrality of prayer,

the sharing of gifts
Here is the Church in miniature; togetherness is a key component; the Holy Spirit is poured out on each person; there is equality and a variety of gifts.
Mary the mother of Jesus is seen as "Mother of the Church". Her crucial role can be imagined, played out in this setting:
COMING TOGETHER
The gathering that meant facing one another, knowing they had let Jesus down. Mary greets each one, a mother welcoming her returning children.
PRAYING TOGETHER
Recognising their need of God and the strength only God could give. Mary gathers them – a hen gathering her chickens – giving thanks, praying for each one; letting the silence speak their sorrow and their hope.
HEALING TOGETHER
The generosity of love overcoming resentment and disappointment. Mary talks of her own initial doubts (How can this come about? and Why have you done this to us?) and encourages them to accept forgiveness.
REMEMBERING TOGETHER
Their time with Jesus; his companionship; their travels; his words and actions. Mary shares her memories and with the disciples brings to life their time with Jesus.
WAITING TOGETHER
The time before any birth is a time of anxiety; a time of wondering and hoping; an expectation of something marvellous about to be. Mary speaks of her time with Elizabeth and the journey with Joseph to Bethlehem.
REJOICING TOGETHER
The joy of new life overcomes the pain of giving birth. Mary remembers the "overshadowing of the Holy Spirit" and the "transfiguration" that changed her forever. The Holy Spirit breathes new life in this gathering, and the Church, the People of God, is born.
Concluding prayer: LITANY OF OUR LADY
Mary of Bethlehem – Pray for all mothers
Mary of Nazareth – Pray for all families
Mary of Cana – Pray for all marriages
Mary of the Cross – Pray for all grieving
Mary of the Cenacle – Pray for all waiting
Mary, model of womanhood – Pray for all women
Woman of faith – Hold us in your heart
Woman with hope – Hold us in your heart
Woman in love – Hold us in your heart
Woman anxious – Hold us in your heart
Woman so humble – Hold us in your heart
Woman compassionate – Hold us in your heart
Woman who wonders – Speak for us to God
Woman who listens – Speak for us to God
Woman who understands – Speak for us to God
Woman who gives – Speak for us to God
Mother of humankind – Befriend us, unite us
Mother of the Church – Keep us close to Jesus
Mother of Mercy – Help us to be forgiving
Mother of God – We thank God for you