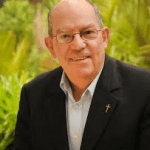 Each weekday, Father James Lyons (Wellington) will be helping us reflect on God's Word while we are in lockdown. What is God saying to us as we globally unite to defeat Covid-19?
LANGUAGE
SETTING:
Prayer:
You speak to us in so many ways, Lord,
telling your love and calling our names
in rainfall and birdsong, in laughter and tears,
in good and bad times,
in sickness and in health
you let us know you are with us.
It can be hard to recognise your voice
amidst the rushing and the noise.
But now, I hear you in this gift of quiet
with routine broken and separation bringing
us closer than before. Yes, your voice is here
telling your love and calling our names.
Help us to listen, and to learn.
Language is usually associated with spoken words. Voice and sound are vital ingredients. But language is also present in sight and touch and smell and taste. All our human senses relate to language. Each is a channel of communication, tying us to one another, even unconsciously, linking us to and helping us celebrate life. It's body language.
In this time of lockdown, when, as a nation and internationally, we have been separated from one another as never before, we have a chance to reflect on the power and importance of "language" in all its forms. Social media, despite its wizardry, can never replace human contact in meeting our need to be physically close to others. Only then can all our senses to do their work of nourishing, supporting, healing and developing and celebrating community.
SCRIPTURE – MARK 5:1-20 and 21-43 [NRSV]
This chapter in Mark is rich with language. The man living "among the tombs" had lost all sense, was excluded from his community, denied all human contact. He instinctively recognises Jesus but can only communicate from his crazed state… Healed and restored, he wants to follow Jesus but is told to "Go home to your friends". The "friends" have not wanted Jesus to stay but the new disciple changes their opinion to amazement.
The language of touch features in the second half of this chapter:
Jesus is asked to "Come and lay your hands" on a sick child.

A woman knows she will be healed "If I but touch his clothes".

Jesus takes the dead child "by the hand…".
The languages of fear, trembling, weeping and laughing also play a part in this section of chapter five.
REFLECTION
Spend time with this chapter. Identify the various "languages" at play here and the power they exercise in the lives of those involved. How they convey distrust, disgust, despair, sadness, mockery, amazement…
Listen to the voice of Jesus in this chapter. What do you hear in the way he speaks in the different scenes?
What is the effect of your "language" in your own lived situations? Even in isolation you are still "speaking". To what effect? In what tone?
INTERCESSIONS
Pray for people disabled in any way, especially for those unable to communicate, to explain themselves, how they feel, what they need, who they are, what they value, fear, miss…
For those without the power of speech or who feel their voice is powerless – may love and caring hearts speak for them.

For those who cannot see, deprived of sight from birth or accident; or blinded by prejudice or anger – may they be guided with patience and respect.

For those whose sense of touch or smell or taste is somehow disabled – may they not be misunderstood or misjudged but know kindness and reassurance.
Believe in "the instinctive compassion to heal"
[Queen Elizabeth II – address during Covid-19]
THE LANGUAGE OF TOUCH
Every part of us touches something sometime
and speaks connection with the voice of feel.
Touch opens the path to friendship
and guides through troubled ways.
Eyes touch the heart with their knowing look;
they bring light to unspoken corners
and hope to brokenness.
Feet feel the softness of sand,
the sharpness of stones;
the warmth of summer
and security comes with a timely foothold.
Touch seals a contract, forgives a hurt.
It finds the solid ground
for travelling through a lifetime.
Touch tells a partner I'm still here.
It holds to life, closing the space
of separation and uncertainty
and speaks the words no words
can ever fully say –
I love you.
When he saw Jesus, he bowed with his face to the ground and begged him, "Lord, if you choose you can make me clean." Then Jesus stretched out his hand, touched him, and said, "I do choose. Be made clean." [Luke 5:12-13]