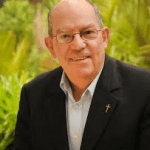 Each weekday, Father James Lyons (Wellington) will be helping us reflect on God's Word while we are in lockdown. What is God saying to us as we globally unite to defeat Covid-19?
ENCOUNTERS
SETTING: a lit candle and flowers and/or coloured cloths/ribbons
Prayer:
To encounter your Word, O God,
the Word made flesh in Jesus,
is to encounter a living voice
a loving voice
calling, inviting, challenging,
revealing, offering faith,
instilling hope,
expecting only love.
In this quiet time, tune me to your Word
that I may encounter Jesus, risen and glorious
to hear his voice and to gift myself
for your glory,
for the good of those dear to me
and for all the world.
Today's prayer time is itself an invitation to come alongside the people who "encounter" Jesus as recorded in John's gospel narrative. Each of John's 21 chapters is an episode in which a particular encounter involving Jesus becomes a life-changing experience – one way or another. Here is a sketch of each chapter. Spend time with one or two of them and prepare for your own encounter.
THE CHAPTERS OF JOHN'S GOSPEL:
John the Baptist, Andrew, John, Peter, Philip, Nathaniel.
John's humility in acknowledging Jesus and his generosity in letting his disciples follow Jesus – and their inquisitiveness…
Mary, mother of Jesus; Servants at the wedding.
Cana – an encounter with friendship, trust and joy. Trust builds confidence and creates confidence in others.
Nicodemus – an honest enquirer with a lot to lose.
What risks was he taking in his encounter? His commitment was still some way off (Ch.19:39). What have I lost, what might I still lose, in following Jesus? What commitment have I made? Time now to renew?
Samaritan woman – a foreigner and unpopular among her own. This encounter heralded a huge change, a transformation. Jesus was brutally honest with her. She met the challenge with courage and found faith.
Cripple at Bethzatha pool – a person friendless and just clinging to hope. With only a little help he could have made it to the pool (healing). Is my time of isolation helping me grasp the value of togetherness?
The large crowd fed – the encounter of Philip with Jesus' question about where to buy food, leads to further encounters, to decisions, the revelation of Jesus as the "living bread", division and commitment.
"The Jews", the people, the Temple Police – unbelief, uncertainty, division… Encountering Jesus affects people individually and personally.
The adulterous woman; Scribes and Pharisees – an encounter with injustice, mercy, compassion and the revelation of Jesus as "I AM".
The man born blind: an encounter with Jesus, bring the person newly healed to an encounter with authority; the encounter creates a witness.
Pharisees – shepherd theme; "The Jews" – stones – Goodness encounters suspicion; love encounters rejection and the desire to kill.
Lazarus, Mary, Martha – three very different encounters with faith at the centre, leading to a further revelation, I am the resurrection and the life (vs25), and a consequence – Jesus no longer went about openly (54)
Palm Sunday crowd; hardened attitudes; sense of foreboding – Some believe, some don't; many confused. The inability to take the step that Nicodemus, and others, had taken (vs47). Where do I stand in this mixture? How obvious do I make my commitment to Jesus?
Judas, Peter – pivotal characters. Both confident. Both flawed. Both chosen. Jesus washes them and loves them and they both betray him. Consider the situation they were in. What would I have done?
Philip, Judas – placed as bridges in Jesus' discourse, bring the assurance that we are not orphans and that, in Jesus, the deep, inner and lasting peace we all seek, can be found – and is, in fact, given. Do I really know and believe these truths?
Vine – Branches: a unique, intimate encounter. Remain in me – I give you a new commandment to help you – for you do not belong to the world. (vs 4, 12, 19). How conscious am I of remaining in Jesus?
Promise of the Spirit – an encounter that will change everything; an all-conquering encounter that will show how joy follows sorrow.
Jesus' "priestly prayer" – encountering eternal life in and through Jesus. Our love for one another ensures unity, which is the heart of the "only true God", a Trinity of Persons. (vs 23)
Guards, Annas, Caiaphas, Pilate – several encounters, conflicting, challenging. The words of Jesus, Who are you looking for? are addressed to everyone. Do I have an answer?
Pilate; "two others" crucified; soldiers; Mary and others at foot of the cross and "the disciple he loved". Everyone encounters Jesus differently, as he encounters us in the various circumstances of our lives. What part have my circumstances played in bring me to Jesus?
Mary Magdalen; the disciples; Thomas – encounters that are reunions.
Peter – and encounter that is healing.
Bless the Lord, O my soul
And all that is within me, bless God's holy name
Bless the Lord, O my soul
And do not forget all God's benefits.
[Psalm 103]